The Hallam Hotel has two menus, one that caters for the lunch crowd (available between Monday and Friday, 12pm - 2:30pm only) and one that offers the dinner trade many delightful, hearty and tasty dishes (this menu is on offer for lunch and dinner on weekends and public holidays).
The Bistro is open 7 days a week. Outside meal times you are welcome to come in, sit down and enjoy a drink or even our coffee and cake deal. The Bistro area is family friendly and it is a great place to meet up with friends or work colleagues.
We offer meals for the whole family, with a kids menu, main menu and a seniors 3 course option, and our great daily specials menu. Not to mention, of course, our seniors 10% discount off all other main menu items. Our menu ranges from light meals, salads, steaks, vegetarian dishes, pasta's and who can forget the good old pub favourites like a parma or roast.
Bistro

Lunch
Every Day
11:30am - 3pm
Dinner
Every Day
5:30pm - 9pm
Meal Deals & Dining Specials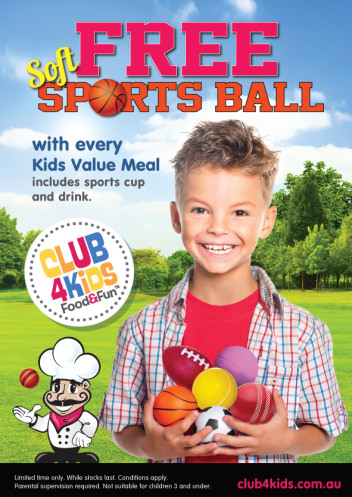 JANUARY SCHOOL HOLIDAY GIVEAWAY!
We've got something special for the kids these summer school holidays!
Bring the kids in this January and receive a FREE soft kid's sports ball with every Kids Value Meal purchased.
Kids Value Meal includes Kids Meal, Sports Cup and drink. Limited time only. While stocks last. Parental supervision required. Not suitable for children 3 and under.
Saturday 14th February 2015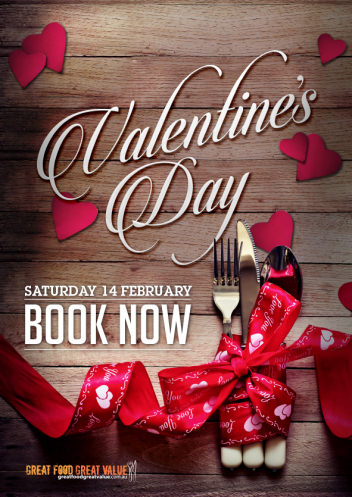 Book Now For Valentine's Day
Saturday 14th February
Valentine's Day is on the way so get in early and book your romantic date for two today.
Conditions apply. Bookings are essential. Not available with any other offer. See staff for details.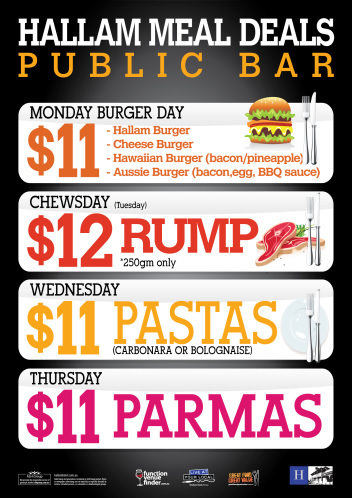 Meal Deals
In the Public bar
Come into our Public bar and enjoy our great value meal deals during the week.
Monday
$11 Burger day: Hallam Burger, Cheese Purger, Hawaiian Burger, Aussie Burger
Tuesday
Wednesday
$11 Pastas: Carbonara or Bolognaise
Thursday
Conditions apply. See staff for details.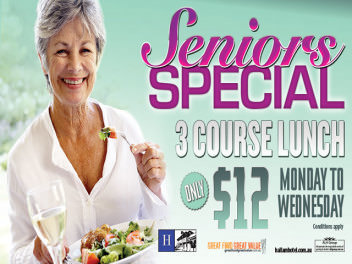 Seniors Specials
Have a great value Seniors lunch here at the Hallam.
$12 Seniors 3 course lunch.
Monday - Wednesday
Not available public holidays and special occasions.
Conditions apply.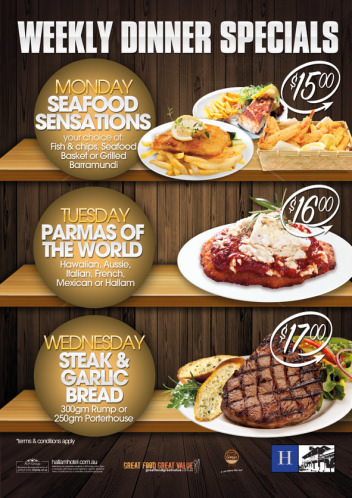 Weekly Dining Specials
At the Hallam Hotel
Looking for a great meal that's not going to break the bank? Well head down to the Hallam Hotel and grab one of our awesome weekly dinner specials.
Monday Night- $15 Seafood Sensation
You can choose from:
Fish and Chips
Seafood Basket
Grilled Barramundi
Tuesday Night - $16 Parmas of the World
Select your favourite kind of parma:
Hawaiian, Aussie, Italian, French, Mexican or Hallam!
Wednesday Night - $17 Streak and Garlic Bread
You can choose from:
300gm Rump
250gm Porterhouse
Conditions apply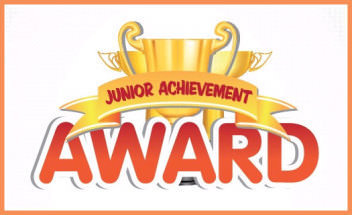 Hallam Hotel - Junior Achievement Award
We have designed some 'junior achievement awards' to try and reward our local junior sporting teams and further develop our relationship with the community.
These are available on request for any and all sporting teams that wish to participate. The feature an 'awarded for' section which allows these awards to be given for almost any reason be it best on ground, coaches award or just a little something special to give as a moral booster.
Each award comes with a free kids meal on a perforated section which can be redeemed in our bistro.
To discuss your participation in our junior achievement awards please contact the Hallam Hotel.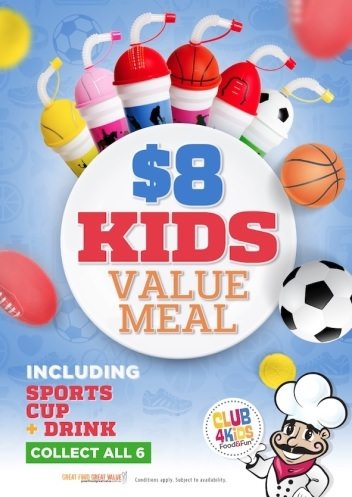 $8 Kids Value Meal including Sports Cup & Drink
For just $8 you will receive a kids meal and a sports cup filled with soft drink or juice!
So get the family together for lunch or dinner at participating locations and leave the cooking and washing up at home!
Conditions apply. Subject to availability. See staff for details.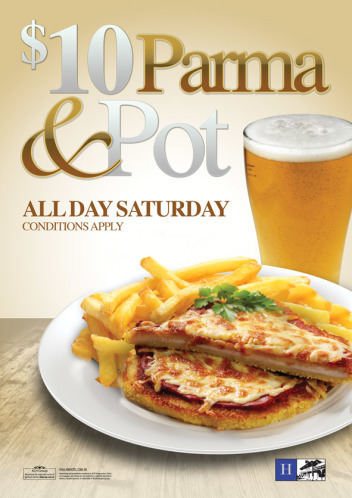 Saturday $10 Pot and Parma Deal
Available in the Sports Bar
Who doesn't love a traditional parma and a pot of beer to wash it down? If this is you, then make sure you head down to the Hallam Hotel Sports Bar and grab this fantastic deal.
You can grab a delicious parma and a cold beer all day for only $10! You can't go wrong with that.
Conditions apply, see staff for details.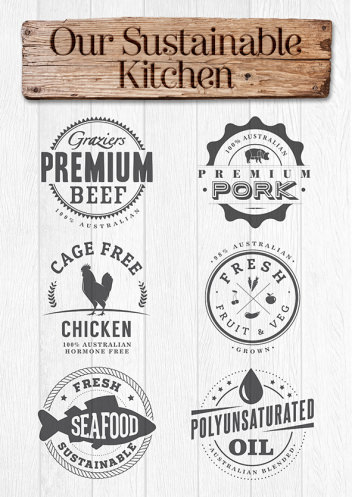 Our Sustainable Kitchen
We have made a commitment to serve:
100% Australian beef which is fresh and chilled, never frozen
100% Australian chicken, hormone and antibiotic free, fresh and from cage-free farms
100% Australian fresh seafood from sustainable fish stocks
Sow Stall free pork that is also hormone and antibiotic free
98% Australian grown fresh fruit and vegetables
We are passionate about food and how it arrives on your plate.