The Hallam Hotel has introduced a two new menus, one that caters for the lunch crowd (available between Monday and Friday, 12pm-2:30pm only) and one that offers the dinner trade many delightful, hearty and tasty dishes (this menu is on offer for lunch and dinner on weekends and public holidays).
The Bistro is open 7 days a week, from 12pm for lunch and 5:30pm for dinner. Outside meal times you are welcome to come in, sit down and enjoy a drink or even our coffee and cake deal. The Bistro area is family friendly and it is a great place to meet up with friends or work collegues.
We offer meals for the whole family, with a kids menu, main menu and a seniors 3 course option, and our great daily specials menu. Not to mention, of course, our seniors 10% discount off all other main menu items. Our menu ranges from light meals, salads, steaks, vegetarian dishes, pasta's and who can forget the good old pub favourites like a parma or roast.
Bistro

Lunch
Every Day
11:30am - 3pm
Dinner
Every Day
5:30pm - 9pm
Meal Deals & Dining Specials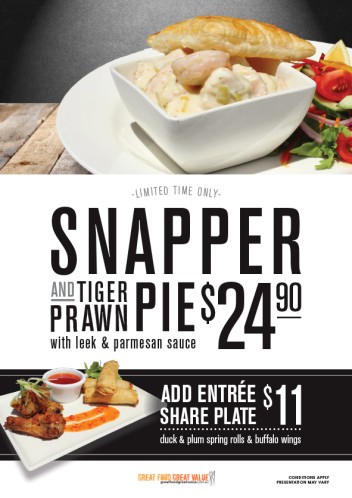 Snapper & Tiger Prawn Pie
For a limited time only, receive a Snapper and Tiger Prawn Pie with Leek and Parmesan Sauce for just $24.90.
For an extra $11, add an Entrée Share Plate with Duck and Plum Spring Rolls and Buffalo Wings to your order.
Conditions apply. Presentation may vary. Not available with any other offer. May not be valid public holidays. See staff for details.
Entry closes 11am AEST 13 October 2014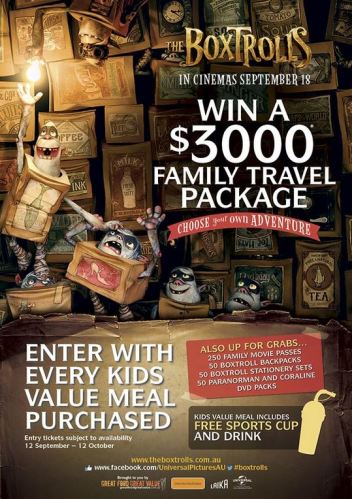 CHOOSE YOUR OWN ADVENTURE
WIN A $3000 FAMILY TRAVEL PACKAGE
We're celebrating the cinema release of The Boxtrolls!
For a limited time only, go in the draw to win a $3000 Family Travel Package when you purchase a Kids Value Meal or Kids Buffet Meal at participating venues from 12 September – 12 October.
Plus, the chance to win 1 of 400 instant prizes including 250 family movie passes, 50 The Boxtrolls backpacks, 50 The Boxtrolls stationery sets and 50 Paranorman and Coraline DVD packs.
So get the family together for lunch or dinner at participating venues to plan your family adventure!
Promoter is ALH Group, Level 2, 10 Yarra Street, South Yarra 3141 VIC. Promotion commences at 11am AEST 12/09/14 and ends 11am AEST on 13/10/14. There are 130,000 Entry Tickets available for distribution during the Promotion Period. Entry Tickets subject to availability at the time of purchase. Total Prize Pool valued at $27,700. The Major Prize Draw will take place at 11am AEST 14/10/14 at the office of Mike Da Silva & Associates Pty Ltd, 15 Grosvenor Street, Neutral Bay 2089 NSW. Further terms and conditions apply. Authorised under VIC permit no. 14/4943, SA permit no. T14/1452 and NSW permit no. LTPS/14/06301.
The BoxtrollsTM and © 2014 Boxtrolls LLC licensed by Universal Studios licensing LLC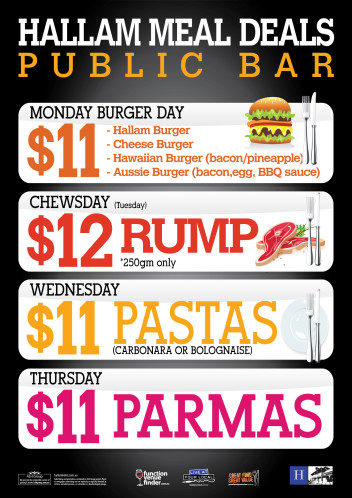 Meal Deals
In the Public bar
Come into our Public bar and enjoy our great value meal deals during the week.
Monday
$11 Burger day: Hallam Burger, Cheese Purger, Hawaiian Burger, Aussie Burger
Tuesday
Wednesday
$11 Pastas: Carbonara or Bolognaise
Thursday
Conditions apply. See staff for details.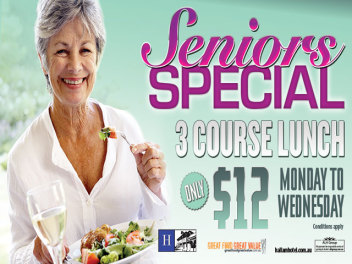 Seniors Specials
Have a great value Seniors lunch here at the Hallam.
$12 Seniors 3 course lunch.
Monday - Wednesday
Not available public holidays and special occasions.
Conditions apply.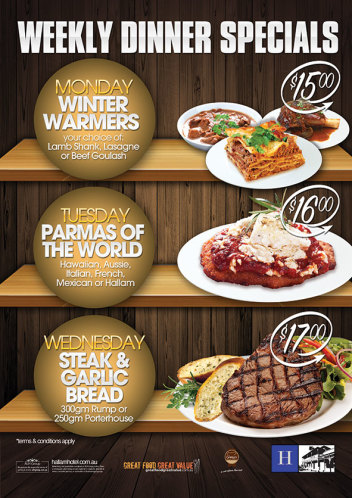 Weekly Food Specials
Come in and try one of our weekly dinner specials.
Monday Winter warmers
Tuesday Parmas of the world
Wednesday Steak & garlic bread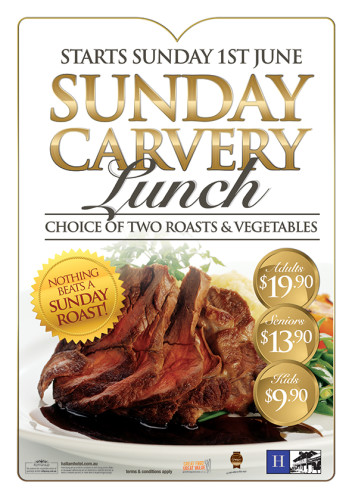 Sunday Carvery Lunch
What's Sunday without a roast?
We have a choice of two roasts to enjoy plus vegetables.
Adults: $19.90
Seniors: $13.90
Kids: $9.90
Conditions may apply. Not available with any other offer and may not be available on public holidays. Please ask a staff member for details.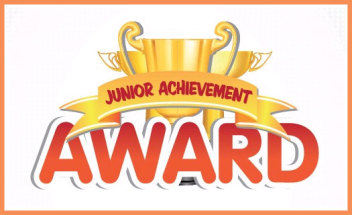 Hallam Hotel - Junior Achievement Award
We have designed some 'junior achievement awards' to try and reward our local junior sporting teams and further develop our relationship with the community.
These are available on request for any and all sporting teams that wish to participate. The feature an 'awarded for' section which allows these awards to be given for almost any reason be it best on ground, coaches award or just a little something special to give as a moral booster.
Each award comes with a free kids meal on a perforated section which can be redeemed in our bistro.
To discuss your participation in our junior achievement awards please contact the Hallam Hotel.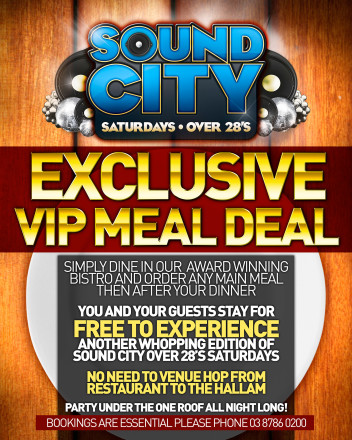 Sound City Exclusive
Saturday Over 28s
Simply dine in our Bistro and order any main meal then after dinner you and your guests stay for FREE to experience another whopping edition of Sound City Over 28s
Party under one roof all night long.
Bookings are essential, Phone: 8786 0200.
Requires the purchase of a main meal to be eligible to stay for free. Terms and conditions apply. See staff for details.
Available for lunch and dinner, every day at participating venues.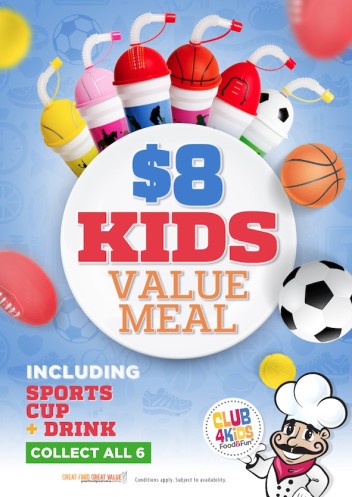 $8 Kids Value Meal including Sports Cup & Drink
For just $8 you will receive a kids meal and a sports cup filled with soft drink or juice!
So get the family together for lunch or dinner at participating locations and leave the cooking and washing up at home!
Conditions apply. Subject to availability. See staff for details.